The Science Fiction Club provides a community where students interested in science fiction can discuss science fiction stories, novels, shows, and movies.
Whether you're a science fiction fan or just curious, come check it out and have some fun!
Members discuss science fiction and related topics at club meetings. Members are also informed of upcoming events such as conventions, and they help support events held on campus such as science fiction movie viewings.
---
Our Mission
To gather and celebrate science fiction movies, television, literature and video games.
Learn more at our LCC Science Fiction Club Wiki!
Annual Science Fiction Convention: NanoCon
NanoCon is our annual Science Fiction Convention. It is organized and run by members of the Science Fiction Club. If you are interested in helping to plan, develop, and/or organize this event please contact the club advisor, Klint Hull, listed below.
Club Officers
President: Jessica Fenley
Vice President: Leeman Hylton
Treasurer: Mike Heywood
Recorder: Quinn Larson
Promotions:
Join Science Fiction Club!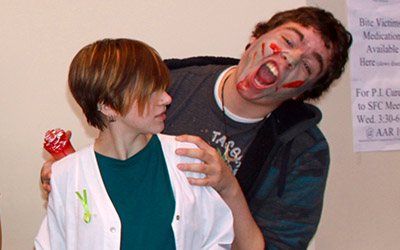 ---
Meeting Schedule
Wednesdays at 3:30 pm in the Health & Science Building Room 107.