Science and Healthcare Training for the Future
The Lower Columbia College Health and Science Building houses all LCC healthcare and science programs under a single roof for the first time in the college's 80-year history.
Technology-enabled classrooms and labs, outfitted with the latest in scientific equipment, prepare students for in-demand careers in science, engineering, nursing and other healthcare fields.
Programs in this Building Include:
Nursing and Allied Health courses.
Math and Physics courses.
---
The 70,000-square-foot, three-story brick and glass structure is located on Maple Street adjacent to the Main Building, the first facility constructed on the current campus. The new building includes a 140-seat lecture hall, large enough to seat several lecture classes together and also to serve as a venue for community programs.
Classrooms and labs are designed to take advantage of natural light supplemented with highly-efficient, motion-activated LED fixtures to conserve power usage. Easy-to-move tables and chairs maximize the flexibility of classrooms for a variety of study configurations and accommodate up to 50 students, almost double the capacity of previous science rooms.
Spaces for eating, socializing, and individual and group study are located on all floors to bring faculty and students together outside the classroom.Research shows that this kind of interaction and cohort study increases student success. Digital displays and interactive computer screens on each floor keep students and faculty informed about important dates and upcoming activities.
First Floor
Four General Use Classrooms
80-seat Tiered Classroom
Earth Science lab
Physics Lab
Environmental Studies and General Lab Mud room for Outdoor Studies
Second Floor
OB/GYN Lab
Four Clinical Classrooms
Nursing Lab
I.V. Simulation Station
Medical Assisting Lab
Simulation Lab and Control Room
Lecture Hall Balcony
Nursing Computer Lab
Seminar Room
Third Floor
Microbiology Lab
General Biology Lab
Anatomy and Physiology Lab
Cadaver Room
General Chemistry Lab
Organic Chemistry Lab
Instrument Room
Resource Room
Green Roof and Outdoor Study Deck
Outdoor Plaza
---
Public Art Installation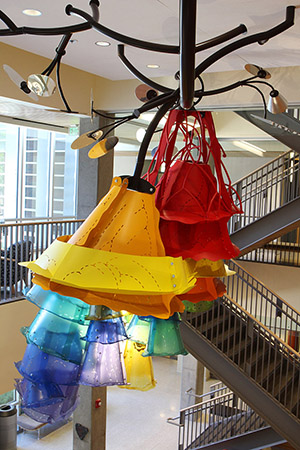 Blossom of Life
Installation artwork titled 'Blossom of Life' graces the Health & Science Building's main entrance. It was commissioned by the Washington State Art in Public Places program through Rhiza A + D Architecture & Design, a collaborative design studio and building workshop located in Portland, Oregon.
This colorful installation represents Longview's growth through forest and trees through a Tree of Life metaphor. It features the tips and blossoms of trees in budding, vibrant, exuberant and temporal fashion. It is meant to trace life's transformation from single-celled bacteria and archea to multi-celled plants and mammals, and to symbolize health and science.
Rhiza A + D partners Ean Eldred, Richard Garfield, John Kashiwabara, and Peter Nylen created this artwork.
Learn more about Blossom of Life and its meaning at Rhiza A+D Lotsa Blossom, Lotsa Life!
---
Sustainability Features
Photovoltaic Power
The photovoltaic power generation system converts solar radiation from two solar awnings and rooftop solar panels into direct current electricity. Solar photovotaic power generation is a proven technology in use for over 50 years that produces clean sustainable energy without moving parts or environmental emissions. Solar panel monitoring equipment will provide educational data in energy conservation for students at a station inside the building. The panels will produce up to 80,000 kilowatt hours of power daily.
Daylight Systems
Daylight harvesting systems use daylight to offset the amount of electric lighting required to light interior spaces, further reducing energy consumption. Control systems use light sensors to automatically dim or switch the intensity of lights in each room in response to changing daylight availability. Sun shades on the south and west sides of the building also reduce energy use for cooling.
Hydration Stations
Hydration stations (water fountains) on each floor include a special feature to fill water bottles, providing a sanitary option for users and reducing the need for disposable plastic water bottles.
Rain Garden
The rain garden irrigation system retains storm water runoff on site reducing the amount of water flowing into area lakes and rivers. More than 10,000 native plants provide a welcoming exterior to the building while contributing to the efficiency of the rain garden system. A partial green roof on the third floor outdoor study deck helps cool the floor below while reducing storm water run-off from the roof.
---
In the News
2016
2014
2013
2012
2011
2010