The Rose Center for the Arts is now live streaming concerts and events! Available Here






The Rose Center for the Arts is the most elegant public building in Cowlitz County, featuring sweeping expanses of wood paneling and a mural by a nationally recognized painter in the lobby.
Extensive use of timber, made possible by a donation from the Rose family, establishes a bond with the region's history of lumber production. Fir and cherry wood paneling enhance the aesthetics, along with state-of-the-art variable acoustics, sound systems and lighting.
The state-of-the-art building defines the edge of the campus and provides not only classrooms and offices, but rehearsal, performance and exhibit spaces designed to showcase a variety of arts and cultural events.
Programs Include:
Features Include:
Wollenberg Auditorium
The 525-seat performance auditorium has state of the art variable acoustics, sound systems and lighting. To enhance the audience's experience and celebrate the local area, fir slats and cherry panels line the seating chamber. The fir panels on the cheek walls and ceiling improve the acoustics of the room.
Bosendorfer Imperial Grand Piano
The Bosendorfer Imperial Grand Piano features a full eight octaves. It was made possible by the generous donation of Ken and Pat Hanson.
Center Stage Theatre
The 125-seat theatre is designed as a thrust theatre to enhance the audience's connection with the performance or lecture. The configuration allows for unlimited set-up flexibility for performances, while also serving as a lecture and instructional space.
Ken & Pat Hanson Rehearsal Hall
The rehearsal hall is lined with articulated maple panels designed to disperse sound waves evenly throughout the space. Variable acoustic curtains can be deployed at the touch of a button to change the acoustic setup of the room. This allows the room to adjust to the needs of a 40 piece orchestra, a jazz quartet or a single lecturer.
Twenty foot high walls allow ample space and complete flexibility for the display of art. The second level of the gallery is more intimate in nature and will display special items and the college's permanent collection, much of which has been donated. Natural light from a slot skylight gently illuminates the room to enhance the overall experience in the gallery.
Public Art Installation: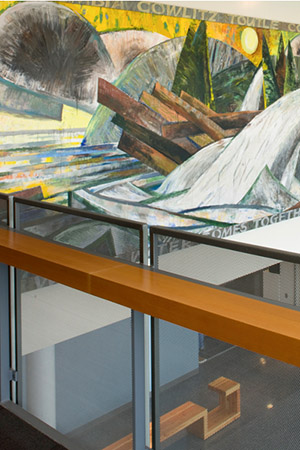 Where Water Comes Together with Other Water
The lobby mural by Portland artist Lucinda Parker is 40 feet long and 10 feet tall. After extensive research into the local area, Parker chose to create an abstract scene of the roaring Columbia River rushing into the Pacific Ocean in Longview, home of Lower Columbia College.