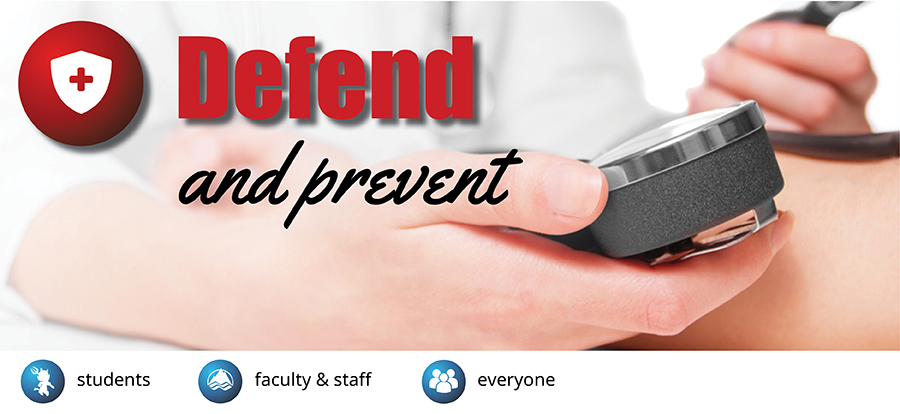 Red Devil Wellbeing: Defend & Prevent!
Prevent illness and disease, recognize common symptoms, track your health indicators, stay safe and practice self care.
Check out some of the common myths about colds and the flu!
Check out our COVID webpage for information on COVID-19!
---
Events Listing
Click any event below for details, or open full calendar.

LCC Flu Shot Clinic
It's back! ASLCC, the Student Nurse Organization and the Department of Nursing and Allied Health are sponsoring the LCC annual flu-shot clinic. Vaccinations will be free to all students, faculty and college employees. The clinic will be held in HSB 235 during the following hours:
October 17 – Monday 12:00 – 4:00
October 18 – Tuesday 12:00 – 4:00
October 19 - Wednesday 12:00 – 4:00
October 20 – Thursday 12:00 – 4:00
October 21 – Friday 12:00 – 4:00
We look forward to seeing you at the clinic!​ View the flyer for more information!
---

Blood Donation Needed!
Blood supply centers have declared a "Code Red" alert due to the ongoing blood shortage affecting hospitals and trauma centers across the Pacific Northwest, reporting less than a 24-hour supply over the past three weeks.
To ensure adequate supply, blood supply centers are urgently seeking blood donations from Washington State residents.
What's needed?
Types O and A blood are in critically short supply, but all blood types are needed.
Who can donate?
Generally, anyone age 18 and older can donate. Children ages 16-17 can donate with a parent's permission.
You may not be able to donate (or may have to wait) if you have certain health conditions or have had recent medical procedures or some non-COVID vaccinations. Contact the blood supply center to confirm your eligibility (or check their website) before scheduling an appointment.
You are immediately eligible to donate after receiving the COVID-19 vaccine. There is no waiting period for blood donors who received the Johnson & Johnson, Moderna, or Pfizer vaccine.
What's causing the shortage?
A sustained increase in patient demand for blood, combined with low donor turnout, means only 85 percent of the blood needed is now available. Washington hospitals' needs are fluctuating daily between 10 and 18 percent above normal usage. Blood supply centers are asking hospitals to actively conserve blood when possible.
How to donate
To ensure staff and donors' safety, blood donations can be made by appointment only. You can visit any of the blood supply centers' websites below to make an appointment:
Earn SmartHealth Points
If you are a member of SmartHealth, you can earn points for learning about the need for blood donations. Login and track your participation before the end of July.
Target Audience: Everyone

Defend & Prevent!
---
Prevent illness and disease.
Recognize common symptoms.
Track your health indicators.
Stay safe.
Practice self care!
---
Ergonomic Assessments
Proper computer setup can make a big difference!
Click the link above for more information. Contact Sam Orth if you'd like your workplace assessed.