2013-2014 Benefactor of the Year: J&S Foundation
For nearly 24 years the J&S Foundation has been the quiet champion of the LCC nursing program.
In 2014 the Lower Columbia College nursing program celebrated 60 years of excellence in nursing education. What better way to celebrate this achievement than with a new home for the program in the new Health & Science Building, along with the recognition of one of the program's most dedicated benefactors.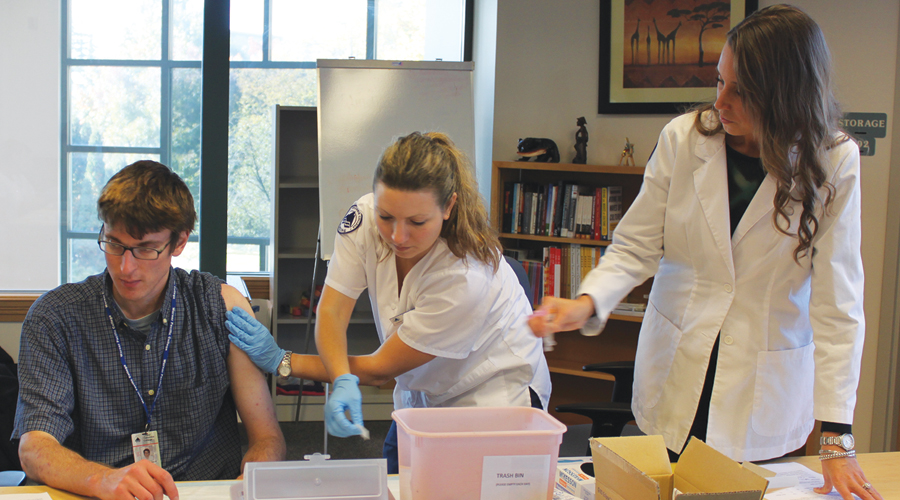 For nearly 24 years the J&S Foundation has been the quiet champion of the LCC nursing program through generous annual scholarship support, as well as program and equipment support.
Each quarter two nursing students in their second course of the program are selected to receive J&S Scholarships. As recipients, each student's tuition and fees are fully funded by the J&S Foundation until they finish the program. Annually, the J&S Foundation funds a total of 12 full-ride scholarships for LCC nursing students.
"The J&S Foundation, through their generosity and support, have touched the lives of so many people in this community. Not only have they impacted students, but countless patients and members of the medical community who now receive the benefit of their gift through the education and talents of our graduates." — LCC Board President Bob Gregory.
The J&S Foundation has held a tradition of meeting privately with each of the students and staff they have supported over the years - developing rich relationships with their student scholars and our community's future nurses. It is from this tradition that the LCC Foundation Annual Scholarship Social was born, and still continues today.
"It is a pleasure to give a student the opportunity to improve their life through education. Our hope is that someday these same students will be able to give someone else the chance to improve their life." — J&S Foundation representative
---
About Benefactors
Benefactor honorees have a history of providing charitable financial support to the foundation, and/or significant volunteer service to the college. Most notably, contributions from honorees have had major impacts on the college, its programs, students, or the community.