Christopher Bailey, or 'Chris' as he's known on campus, became president of Lower Columbia College in 2011. He came to LCC from Centralia College, where he was Vice President of Human Resources and Legal Affairs for six years, and taught business and law classes for two decades.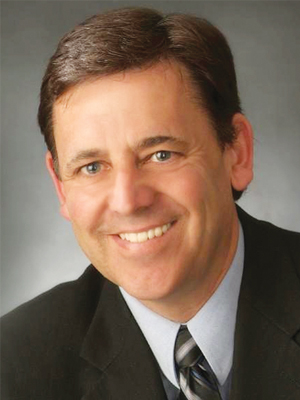 Greetings! As president of Lower Columbia College I am proud to be part of an organization that is helping students achieve their college and career goals.
Working Closely with Our Community
LCC welcomes curiosity, creativity, intellectual ambition, and an openness to new ideas. We see learning as a challenging, deeply rewarding, and profoundly important activity to be shared in a spirit of collaboration. Our greatest strength is our community support. We work closely with local organizations to support our community and give back in whatever way we can.
High Level of Employee Satisfaction
I'm also proud to be part of an organization where employees report a high level of satisfaction. LCC's results in the PACE survey for 2016, 2017 and 2019 were significantly higher in term of employee satisfaction—when compared with other similarly sized colleges. . .Read more at Employee Satisfaction.
"Lower Columbia College offers the promise of a better life for adults of all ages, and a more robust economy for our region. This promise is more important than ever in the post-recession environment." — LCC President Chris Bailey
---
President's Messages
May 11, 2021
We are working hard on a plan to safely reopen as much of the campus as possible, as quickly as it is safe to do so.
A limited number of in-person services are currently available from 10 am - 2 pm, M-F.
On July 19, we will expand the number of services available with in-person hours to 8 am - 5 pm, M-Th (LCC is closed on Fridays in the summer).
By fall quarter, we expect to be closer to "normal" campus operations, following all necessary health and safety protocols.
March 14, 2021
Last year was filled with unprecedented challenges for Lower Columbia College and our students. As the president of LCC, I often hear from our students how LCC has changed their lives. Entire families are impacted by the power of education. Access to an affordable and accessible education is at-risk due to the rising costs of education and the impact the pandemic has had on students' ability to pursue their educational goals.
June 9, 2020
At their June 2020 meeting, the Washington state community and technical colleges (WACTC) presidents unanimously passed two resolutions (links below). The first resolution firmly and unconditionally denounces a history of violence and systemic injustices against Blacks. In the second, we denounce discrimination, xenophobia and harassment against our Asian and Pacific Islander communities.
June 4, 2020
As a society, we are currently dealing with the triple threat of a global pandemic, astronomically high unemployment, and the consequences of persistent racial inequalities that threaten our very humanity. Events of the past several days have underscored the need for change. The ongoing and senseless loss of Black lives is intolerable. Pervasive discrimination against historically underrepresented groups is unacceptable. The violence gripping our country is mentally, physically and spiritually destructive...
May 8, 2020
We have received concerning information regarding next year's budget—fiscal year 2020-21—which begins on July 1, 2020. There are two primary components to our financial concerns...
March 13, 2020
We are aware of today's Emergency Declaration from Governor Inslee closing K-12 public and private schools in Washington through April 24. Colleges and universities have been directed to switch to online instruction where possible effective Tuesday, March 17 through April 24...
March 4, 2020
There are no confirmed cases in our local community at this time. The Cowlitz County Department of Health and Human Services is not recommending closing educational facilities at this point. Please be assured that LCC is monitoring the situation closely, and a campus closure could occur in the future if necessary to protect the health and safety of our students and employees...
July 10, 2019
Each summer, we at Lower Columbia College (LCC) look ahead and work on our strategic planning and visioning. This being our 85th year, it is particularly appropriate to think about what the future might bring. I thought I would share some of the current trends and some possibilities with you...
October 31, 2018
While the campus will remain open during the November 2 Patriot Prayer event, our priority is maintaining the safety of students, employees and visitors.
January 22, 2018
We are deeply and profoundly sorry for the stress and trauma this caused for members of the community, particularly our students, parents, and employees.
September 7, 2017
On Tuesday, U.S. Attorney General Sessions announced that the Deferred Action for Childhood Arrivals (DACA) program is ending. In response, I signed on to a joint statement from the Washington State higher education leadership in support of the students who make up a portion of the 800,000 people in the nation registered under DACA....
August 15, 2017
This morning our campus experienced a derogatory symbol scratched into an exterior campus door. Campus Services promptly removed the graffiti, and Security is conducting an investigation. I want to emphasize that Lower Columbia College does not and will not tolerate any form of speech or behavior that violates our commitment to safety and diversity.
February 2, 2017
LCC Core Values state that our campus community expects an environment of integrity, respect, collaboration, cooperation, inclusion and innovation that fosters personal growth, academic excellence, and accountability. LCC remains committed to these values and to ensuring that they are upheld.
---
About Chris Bailey
Christopher Bailey, or 'Chris' as he's known on campus, became president of Lower Columbia College in 2011. Chris is LCC's fourth president since 1969. Chris came to LCC from Centralia College, where he was Vice President of Human Resources and Legal Affairs for six years, and taught business and law classes for two decades.
Prior to joining Centralia College he was president and general manager for Martin Sand and Gravel Co. in south Thurston County, and worked previously as an attorney. He holds a J. D. from the University of Washington School of Law and a bachelor's degree in business administration from Western Washington University.