Annual Students in Need Campaign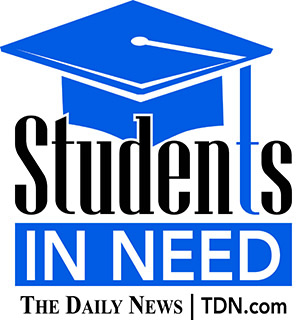 We are excited to partner with the Daily News for the 3rd Annual Students in Need Campaign!
This year's goal is $50,000. With your help we can reach it.
Campaign runs March 18 - April 28.
Your support helps students get the vital support they need, and the funds stay on campus to support programs.
When selecting a giving option please choose 'Student Success Fund' .
"Your generosity will ensure the continuity of the institution for many generations to come." — Kendra Sprague, Vice President of Foundation, HR & Legal Affairs
Contact us at 360.442.2130 or email foundation@lowercolumbia.edu
---
About the Student Success Fund
The Foundation provides $50,000 annually to assist students who are most at risk for abandoning their education due to financial hardship. Student Success funds not only help students in need with emergency funding, but also help the college maintain quality instruction because the funds stay on campus. The average student award is less than $500.
These one-time grants mean the difference between success and failure for students who are on their way to graduation.
The Student Success Fund helps students with:
Tuition and fees not covered by scholarships, financial aid or grants
Emergency childcare expenses
Emergency transportation
Other unforeseen emergency expenses barring students from degree completion
---
Thank you to our Platinum, Gold and Silver Sponsors for your support:
Paul & Marlene Laufman
Laboratory Science Institute
David and Jennifer Houten
Weyerhaeuser Foundation Giving Fund
Vernon and Karen Pickett
Fibre Federal Credit Union
Chet and Birgita Makinster
Anderson & Anderson Advisory, LLC
JH Kelly, LLC
LeBlanc Wealth Advisors, Inc.
The Legacy Group
Richard Nau
PJ Peterson and Stephen Jones
South Seattle College Foundation
RM Tollefson Trust
Estate of Lyle Mack
PeaceHealth Medical Group