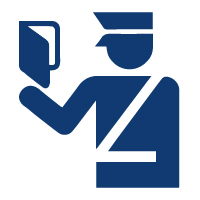 Important information regarding your F1 visa status.
As an international student, there are important rules and regulations you must follow to stay "in status". A violation of these rules will put your ability to stay in the USA and finish your studies at risk. While we provide information below, and help students stay in status, the ultimate responsibility to understand and follow the rules is up to you.
It is important that you do not rely on friends or online forums for information regarding your visa status. Never assume! Always verify with our office.
Maintaining your F1 visa status
You must remain in good academic standing as defined by LCC's academic policies.
You must be continuously enrolled each quarter with the exception of summer.
You must take a full course of study each quarter (at least 12 credits for college courses and 18 credits for iESL). No more than one online course can count towards full-time enrollment.
You must attend class.
You must leave the United States within 60 days after the program end date on your Form I-20
Keep all copies of your Form I-20.
Your passport must remain valid (cannot expire) while you are in the USA
During your first year of study, you can only work on-campus up to 19 hours per week. Off-campus employment is prohibited. After you have been enrolled for a full academic year (3 quarters in a row), you can apply for a type of work authorization from the US Government called 'Pre-Completion OPT,' (Optional Practical Training) which will provide you with a work card that allows you to work off-campus. There is a cost of $410 to apply for this benefit (charged by USCIS). Processing can be lengthy. Please contact us for more information about OPT or scroll below for details.
If you do not complete iESL coursework in one year, or complete associate degree coursework in two years (three years for nursing) you will be "reviewed for progress" and may have your SEVIS record terminated.
Exceptions to rules about full-time study:
During your first quarter of college-level work, you can request a "Reduced Course Load Authorization". It must be pre-approved by International Programs and noted on your I-20.
During your last quarter before graduation, if you are taking the last remaining courses required for graduation, and they do not add up to 12 credits. Note: If it is just one class, it cannot be online.
Any time you have medical reasons.
Examples:
If Jane is taking 3 classes that are 5 credits each, for a total of 15 credits, one class can be online.
If Jane is taking 4 classes that are 5 credits each for a total of 20 credits she can take 2 online classes because only one of those online classes is counting towards the 15 needed for full-time status.
Check this list. Remember, you need to talk to International Programs before doing any of these:
Drop a class.
Change your major, program, or degree level.
Plan to transfer to a new school.
Take a break or leave of absence any time other than summer.
Travel outside the United States.
Move to a new address.
Change visa status (get married, apply for permanent residency, etc).
Delay your planned graduation date listed in the I-20 (if you think you will be unable to complete your program by the end date listed on your Form I-20).
Travel Requirements
Please contact International Programs before making any travel plans:
Travel outside the United States cannot exceed five (5) months.
Carry your I-20 and passport when traveling outside Washington State.
Have your 1-20 endorsed for any travel outside the United States. If you leave without doing so:

You will not be readmitted into the United States, or
You will be admitted, but will have to fill out Form I-515A, which will require a lot of extra paperwork.

Make sure your passport does not expire.
To return home for a quarter other than summer, use the Authorized Early Withdrawal Form:

You have been continuously enrolled for three (3) quarters in a row before the quarter you want to take off. If you leave without doing this you will have your SEVIS record terminated for failure to maintain status.
Moving Requirements
Inform International Programs of any new address, email, or phone number within 10 days of the change. Changes must be submitted using the Change of Address Form or they will not be acknowledged or processed.
If you move and do not inform us, we are required by law to terminate your SEVIS record for failure to maintain status. You would then need to petition for reinstatement with United States Citizenship and Immigration Services (USCIS). This costs $290 and may, or may not, be approved
Optional Practical Training (OPT) Requirements
You can apply for pre-completion of OPT after you have been enrolled for a full academic year (3 quarters in a row).
Post completion OPT applications can be submitted up to 90 days before completion of your course of study, and up to 60 days after. It is best to submit your application as early as possible. The USCIS has a large backlog of applications to process, and applications take a long time to be processed.