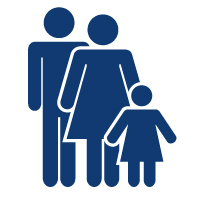 Host families believe that hosting an international student is a rewarding and mutually beneficial experience for themselves and their student.
Host families come in many styles, including single parent, young couple, retired couple, and two-parent families. Host families are individually unique while sharing an interest in other cultures and people.
The below information is an electronic version of the Host Family Handbook. If you would like a paper copy, please contact International Programs staff.
Expectations of Host Families
Provide a furnished private bedroom (with Internet access) for the student as well as a clean, pleasant, and safe living environment.
Provide plentiful nutritious food for three meals per day.
Arrange transportation for the student to and from campus: driving, walking (20 min. max.), bus (40 min. max.).
Involve the student in daily home life, including everyday activities and special outings when appropriate.
Help student adapt to U.S. culture, as well as provide opportunities for them to engage in community life.
Familiarize student with the community and how to access resources such as banks, grocery stores, shopping, etc.
Provide emergency and safety instructions as well as contact information to student.
Contact the International Programs office about any concerns with the homestay arrangement, severe sickness, or other concerns.
Expectations of Students
Pay the homestay fee directly to their hosts each month by cash or personal check from a US bank.
Abide by the terms laid out in the Student Binder regarding homestay fees for partial month stays and vacation leave.
Participate in the daily home life and other activities of the host family.
Respect and follow the host family's house rules regarding Internet, curfews, visitors, smoking, alcohol, etc.
Communicate their needs and requests directly to their host family such as needing a particular item or having any special plans.
Keep areas that they use in the home clean and orderly.
Take responsibility for their own money. Host families will not be responsible for any lost money.
Homestay Fee
The homestay fee will be paid monthly in cash directly to the host family on a predetermined date set by the student and host family (usually the first day the student arrives in the home). From this fee, hosts are responsible to pay for meals, utilities, and any other extras you may choose to provide. Hosts may elect to provide the student with a bag lunch for school and are obligated to pay for hot meals at school when bag lunches are not available. The student is expected to cover personal expenses such as toiletries, stationery, school supplies, postage, clothing, snacks purchased outside the home, and entertainment.
What to do Before your Student Arrives
Read about your student's home country and culture. Knowing more about the environment in which your student was raised will be a first step toward getting to know and understand your student. Look for information in your public library, and update yourself on current events related to that country. Learn what foods your student is used to eating and how to prepare some of those foods. Keep an open mind and avoid stereotypes of your student's culture to influence your judgment. Some assumptions or prejudgments may inhibit your ability to understand and enjoy your student.
Contact your student by telephone, email, Skype, Facebook, etc. When communicating with your student, include information about your home, family, weather, and daily activities. Pictures are always welcome. Describe your community, the surrounding area, and the school. Share a little bit about the school and how the student will travel to and from school. Having this information before arrival bolsters the student's confidence.
Bedroom
Students are required to have their own room. Please prepare fresh sheets on the bed, a blanket, comforter or quilt and pillow. Make sure there is a dresser, desk, and chair available for the student to use as well. Other items to consider are a night stand, alarm clock, radio, laundry basket/hamper and bookcase. A little welcome basket with some snacks, basic toiletries, and/or other goodies is also a nice gesture to make them feel welcome.
Bathroom
Prepare a cupboard/drawer for their personal toiletries.
Kitchen
Set aside a small cupboard/refrigerator space for their special foods.
What to do After your Student Arrives
What to expect When you are Hosting
We guarantee that your student will experience some form and degree of culture shock, but each student may experience it differently. The information below describes some of the phases of cultural adjustment which may help you and your family better understand some of your student's behavior.
Honeymoon Phase
They are very positive about the culture.
They find the culture exotic and are fascinated by it.
They are largely passive; don't confront the culture.
Anxiety: Discomfort Begins - Honeymoon Over
They begin to interact with the culture and begin to dislike aspects of the culture.
They find the behavior of the people unusual and unpredictable.
They feel anxiety, stress and anger.
They begin to criticize the culture and its people.
They want to go home.
Adjustment: Understanding the Differences
They begin to understand the behavior of the people.
They feel more comfortable living in the culture.
They feel less isolated.
Acceptance: Cultural Competency
They enjoy being in the culture.
They function easily in the culture.
They prefer certain host country behavior more than that of their own culture.
They adopt certain behaviors of their host culture.
Much of the information here has been adapted from L. Robert Kohls' Survival Kit For Overseas Living, published by Intercultural Press and available on Amazon.com and from other booksellers.
Symptoms of Culture Shock
Homesickness
Withdrawal, being alone
Excessive sleeping
Compulsive eating
Irritability
Calls home frequently
Family tension and conflict
Hostility and stereotyping of Americans
Anxious, depressed, crying
Wanting to speak primarily in native tongue, not English
Not performing well in school
Physical ailments such as headache, stomach ache
Although it is likely your student will experience some form of culture shock, most students do not experience it severely. They might exhibit one or two of the listed symptoms. Keep in mind that your student cannot totally control his or her reactions or symptoms. Some students are adept at concealing their discomfort, while others become very vocal. Some students will withdraw and spend as much time as possible avoiding people. Others will become highly critical of everything in their new environment.
How to help your student going through Culture Shock
Talk to the student about the signs you are seeing. Ask open-ended questions, allowing the student to talk freely.
Be supportive, gentle, non-judgmental, and understanding. If your student is critical, don't take it personally. Often a student who says "I don't like this" means "I don't understand this and it makes me uncomfortable."
Encourage your student to become involved in activities, even if it is hard at first, as this will help them make friends and keep busy.
Offer or help arrange for additional language assistance.
Encourage your student to talk to a college counselor.
Notify International Programs if the student is encountering any exceptional problems such as illness, significant difficulty adapting to the host family or school, anxieties about family matters, or serious homesickness.
Expect some communication difficulties with your student especially in the beginning. Most students have a basic knowledge of the host country's language, but book knowledge often does not prepare them for daily language use. Remember it can be very exhausting for your student to communicate all day in a new language! Be open to potential misunderstandings and frustrations that may accompany communication with the student, and please exercise patience. As you help conquer the language barrier together, you will be able to take great pride in the student's accomplishments and will likely create a close bond that will last for many years.
Helpful techniques that may aid you in communication with your international student:
Speak slowly, deliberately and distinctly - not loudly! Face your student so he or she will benefit from your expression and body language.
When necessary, repeat what you have said or rephrase it. If you don't understand what is being said to you, say something to the effect of "I'm sorry, I'm not sure I understand what you are saying, could you repeat that?" If necessary, try using a dictionary that has English and your student's language.
Listen carefully to what your student says to you, and offer genuine encouragement! If needed, ask the student to repeat information back to you and encourage the student to ask for clarification.
Avoid asking, "Do you understand?" A student's nod may simply indicate that he or she is listening, but not necessarily understanding.
Write down anything that is important, such as a meeting place or time.
Use Google Translator download the app.
If communication becomes a challenge and you would like some assistance, contact International Programs staff.
One of the most beautiful things about hosting an international student is the opportunity to learn about their culture. This can be a very rich learning environment, but it can also be confusing. It is common for students and host families to have misconceptions of each others cultures. What you may consider to be rude or unacceptable may be normal behavior in the student's culture and vice-versa. It is important to communicate clearly with your student about any cultural misunderstandings. Please be patient with one another as you go through this learning together.
As a host family, you will undergo many changes as a family. These changes have many positive aspects, but they also often create transition stress, which is normal, natural, and will surface in different ways for different people. As a host family, the following are some changes you can expect:
Change of culture in your home
Change of lifestyle (schedules, meal times, how you travel around, amount of free time)
Changes in the way you communicate
Changes in your roles and relationships
It is critical to prepare yourself—and your student—to manage the possible stresses in this transition.
When Problems Arise
You can help your student by keeping communication open and clear. Don't be afraid to have sit-down family meetings. Gently share concerns and encourage the student to be open and express to you what he or she is feeling. Accept those expressions without becoming defensive. Be a good listener.
Be aware that your family has unspoken habits and rules that are so familiar to you that you are hardly aware of them, but which can be completely new (and misunderstood) by your international student. Show your student that his or her feelings matter to you enough that you want to clarify them. Accept that there may be confusion. Be patient when resolving the confusion.
When you notice the student making advances toward fitting into your family, acknowledge those efforts. Make sure to model solving problems within the family peacefully and still being able to love one another afterwords. Give lots of reassurance.
Should a problem arise that you are not able to resolve within the home, please contact International Programs staff for assistance.
Tips for Hosting your Student
Be clear and specific from the beginning as to your expectations.
Ask questions! Get to know your international student and their culture.
Be patient as they learn and adjust to a new culture.
Understanding your International Student
International Program Guidelines