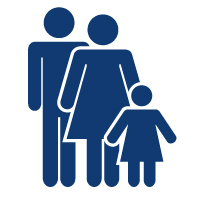 Fun ♥ Meaningful ♥ Transformative ♥ Lasting
Four words that describe the host family experience!
Fun. Guide your student as they experience American life for the first time.
Meaningful. Provide a home-away-from-home for your student while fostering cultural understanding.
Transformative. Gain a deeper understanding of life in other parts of the world.
Lasting. Create friendships that last a lifetime.
Host Family Opportunities
Academic year (9 months or longer).
One or more quarters (each quarter is 3 months).
Short-term cultural exchange programs (2-3 weeks).
Emergency placement, back-up for host families on vacation (1-2 weeks).
Friendship family. Provide friendship to an international student (does not live with you).
Apply to Become a Host Family!
Submit Application
Participate in a home visit, interview, and orientation
Get matched with a student
General Information for Prospective Host Families
Host Family Preparation
Host families attend our host family orientation and receive a Host Family Handbook. Topics covered in the orientation and/or handbook include how to prepare for an international student, culture shock, policies and procedures, communication, cultural barriers, and more. For more information please see Information for Current Host Families.
What do Host Families provide?
A private, furnished bedroom with desk and closet/storage space.
Daily meals.
Transportation assistance to and from LCC.
Opportunities to participate in daily family life and celebrations.
Engagement in local culture and community activities.
What is expected from students who live with Host Families?
Participate in the daily home life and other activities of the host family.
Respect and follow the host family's house rules
Keep areas that they use in the home clean and orderly.